Welcome to our Home in Naples Florida and the Paradise Coast

On this entire site every image and all text in this color are clickable
We are currently accepting 2020 and 2021 reservations at early bird discounted pricing.
Two luxurious master suites, and an amazing secluded pool and spa only begin to tell the story.
Welcome to the one home in Naples Florida that can truly offer you that idyllic Florida experience, along with excitement and adventure found nowhere else. Here you will enjoy the most fun and well equipped vacation rental home in all of Naples. Thrill to the outdoor adventure of our amazing pool and spa surrounded by our lush gardens and sawing palm trees in complete privacy. If you like to cook prepare culinary delights in our world class kitchen, or just kickback and take in the breath taking beauty of our home. Watch related videos
| | |
| --- | --- |
| Our Charming Naples Florida Holiday Home for Fun in the Sun! | |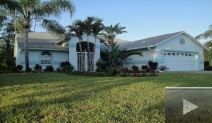 We want our guests to have The Best Vacation Ever™. We offer absolutely the best holiday vacation home in Naples Florida dollar for dollar.

I know there are a lot of words here, but we are so very proud of our home, and so we have a lot to say and we want to give you as much information as possible.

Our holiday home is very relaxed and comfortable (its all about the beach and vacation) but it is also professionally decorated and opulent; Armani, Ralph Lauren, Christopher Guy, Maitland Smith, Marge Carson, Theodor Alexander, Century, Baker, Tommy Bahama, Oggetti, Subzero, Wolf, GE Monogram, Swarovski, are just some of the names in our homes décor. This is not an empty vacation rental, our Villa (video here interactive floor plan here) is nestled in a very private deed restricted community with bike and running paths and more. Besides our amazing Personal Private Pool&Spa, and our equally amazing and very Private multi area Lanai and our private Personal gardens our Villa boasts four bedrooms (two of them suites) and an amazing Home Theatre / Den / Gaming Room, besides the opulent Great Room with huge vaulted ceilings with plant shelves boasting Italian imported floors, custom lighting, commissioned art, and is professionally decorated with the very best and most elite furnishings money can buy. The Large Gourmet Kitchen, featuring exotic TajMahal granite,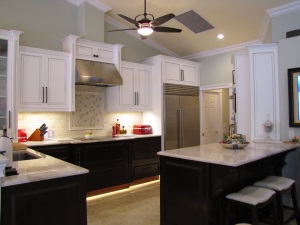 plus the wonderfully appointed dining area featuring among other things a stunning Swarovski crystal chandelier. Of course the Villa has all the needed amenities such as three full bathrooms, a washer and dryer room, several pantries and assorted closets. The guest's bedroom and the bunk (fun) bedroom both feature wonderful appointments. Every room including the Home Theatre / Den has a brand new large screen Untra Hight Def 3D TV and in the Great Room and the Home Theatre there are also Blu-Ray/DVD players and a collection of movies and games. The Home Theatre also offers a very large screen, Ultra High Def 3D Television, Full Cable channels, FREE Netflix on demand movies as well as an XBox1 and a Wii gaming consoles, Gaming Computer with Windows8 + all business software, all connect to High Speed Internet, plus SONOS 5.1 Surround sound with Subwoofer, Spotify Music, special Theatre lighting and a collection of games and movies. In the Great Room there is also a very large 4K smart 3D Ultra HD TV, SONOS sound system, and another computer that uses the TV as the screen. The Fun room has 4 TV/DVD Players one for each bunk bed. Central CABLE with all the channels plus the European and South American soccer channels is included. Every room in the Villa has a multi-speed quiet ceiling fan to add to that "Florida-tropical" feeling. As expected it has central air conditioning and heat throughout and the Villa's private pool (complete with waterfall) and the built in spa are also heated. There is a partially covered outdoor dining area in the lanai that can be closed off into another room and there are wonderful gardens with fruit trees to enjoy. In the garage you will find bicycles, tennis rackets, golf clubs and beach loungers.
Beach and golf can be reached in 5 minutes. Shopping facilities like a supermarket, pharmacy, bank, ATM machine, gas station, Starbucks coffee, several restaurants, a dry cleaners, liquor and wine store, nail salon, sports bar and gaming room, pizza place, Chinese fast food, a breakfast place and a day clinic are just a short walk or bike ride down the road. Stay connected. There are two new computers complete with Microsoft Business Professional and all other customary business and pleasure software, connected to the world via FREE Ultra High Speed Internet Cable and a wireless router with FREE password encrypted WIFI. Skype is included for free overseas chat. There is also a printer/scanner/fax/copier fully operational. Wireless telephones in most rooms with free local calling and long distance worlwide. On the spaciously designed pool area you will find enough furniture for 6 (more stowed if needed) and a BBQ grill for your comfort. This is not an empty rental Villa, it is our vacation home and it is highly decorated and appointed with the best there is. The home is wonderful very opulent but cozy. It is also deceiving. From the front it seems smaller than it is because it runs front to back instead of side to side, it appears to be a simple Naples Florida vacation home until you enter and are transported into the kind of opulence you would expect to find in any 10 million dollar vacation home down on Gordon Drive. My wife and I and our one child enjoy holidays there, but because it is spacious when my two sisters and their husbands and 6 kids join us there is plenty of room for all of us.

No five star hotel could possibly deliver the level of comfort and luxury our home provides.
| | |
| --- | --- |
| Your Own Personal Very Private Pool | |
The Pool and Spa are absolutely wonderful. We had them custom built with all the goodies. The heated and lighted pool (maintained at a constant 88 degrees... Or whatever you like) is 25 feet long and has an incorporated Spa separately heated and featuring massage jets and an air blower. There is also an incorporated pool seat that is conveniently placed below a sheer decent waterfall emanating from a large planter filled with exotic plants. This is a salt water pool which means it uses almost no chlorine. No there is no salt to speak of in this pool; instead it uses a small amount of salt to make a natural kind of chlorine. The water is soft and there is no smell of chlorine and your eyes don't burn when they get wet. The swimming pool is surrounded by custom brick work and a cage called a "lanai", so no bugs or anything but sun can get in. The lanai itself has a partially shaded dining area (with outdoor furnishings by Robb and Stucky), with a lighted ceiling fan is perfect for alfresco dining, or for occasions when you want to sit outside, but not in the full sun. The fully automated drop-down doors can also be closed creating a complete outdoor room for those few moments when a rain shower may pass by. The entire huge caged space (1,400 square feet inside the cage) is surrounded by beautiful gardens of palm trees, exotic flowers and fruit trees ripe for the picking. At night there is custom very high end lighting (designed especially for us by a well known lighting artist), that illuminates not just the pool but the surrounding gardens and also the front of the house. The lanai is flanked by a double row of 20 foot tall areca palms, that are enclosed inside an 8 foot fence, to the back there is a preserve so the back yard is compleatly private.
Fully private, fully yummy, its paradise.
Most amenities within easy walking distance
Within a short walking/biking distance (1 mile or less) there are markets, small shops, restaurants, liquor stores etc. For things further away such as the parks and downtown Naples there are public busses and taxi companies. However to take best advantage of your holiday we recommend renting a car no matter where in Naples you stay. Downtown is 3.2 miles away and the beach is about 3.8 miles away. Walking that far with your beach gear is not comfortable. Most folks go to the beach only a few times during their stay and swim mostly in our wonderful pools, but there is so much to see and do in Naples and the surrounding area that it warrants renting a car in order to maximize your holiday. Be wary of any place that says you don't need a car. If you want it all and you want to see it all then a car is a must. If on the other hand you want just a quiet holiday in a marvelous place then our Villa and our private community will easily suffice. We highly recommend a car. Some places say that because they are directly on the beach you don't need a car. Don't believe that. This is the USA. It's big here. Distances are large. Sure if you are on the beach you can just walk there... And then... After you have roasted on the beach for a couple of days... What will you do? Stay in your room and watch TV? Or will you want to go on adventure, shopping, dining, site seeing... There is so much more to do and see. Naples, Marco Island and the Everglades offer so much but you need to be able to get there and buses and taxis end up costing you more. For a better explanation of the different available accommodations and their locations, advantages and disadvantages please click here.
| | |
| --- | --- |
| Huge Vaulted Ceilings and Large Rooms | |
The beautiful and stylish great room with its cathedral ceiling provides a relaxed but extremely luxurious atmosphere from which to watch the wonderful gardens and heated custom Pool & Spa enclosed within the fully screened in lanai that can be accessed by the retractable sliding glass doors in the great room and also from both of the master bedroom suites. This beautiful holiday home has been recently refurbished and upgraded, including new terracotta tiles on the spacious patio surrounding the large heated pool. The kitchen is large and bright and appointed with every conceivable amenity and appliance. All the appliances are new as of 2015. It also features a breakfast bar for casual eating and a chef's peninsula featuring counter height seating and a wonderful and very large exotic granite table so that the family or guests can gather while the cook prepares a meal without being isolated from the group. The dining area overlooks the pool and lanai and features a large dining table (seats 6, 3 more can sit at the ample bar on the very high end Marge Carson stools, and 2 more on the chef's island) and a china closet full of wonderful crystal. Set above the extremely high end Marge Carson dining table is an amazing Swarovski crystal chandelier that will dazzle you with its opulence and brilliance. The large first master bedroom en suite has sliding doors to the Lanai. The bath area includes his and her sinks, 2 person walk in shower, a separate large soaking tub, his and her walk in closets, and a separate commode room. The suite is highly decorated with vases, paintings and other items of interest including wonderful plant shelves. The beautiful second master bedroom is also en suite and has sliding door access directly to the wonderful Lanai with its heated Swimming Pool complete with waterfalls & Spa. Its bathroom features a tub and shower as well as a separate commode room and a bidet. This bathroom also opens directly to the pool area and can be locked from both sides allowing it to double as a cabana. The suite is fully decorated with many wonderful appointments. The guest's room features two single high-rise beds, a large closet and is wonderfully appointed. The fourth bedroom is sure to be the kid's favorite. It features a full wall bay window and bunk beds for fun and games. The two bottom beds are adult size one is a single and one is a double. The Home Theatre / Den is also fully appointed and can double as a fifth bedroom as the large couch also opens into a queen size bed. The third bathroom features a tub and shower and is bright and cheery, highly customized and decorated with high end appointments.

This is a luxury home with first class accoutrements. 3,000 square feet under air conditioning excluding the garage, closets etc, all on one floor without any steps to climb. (interactive floor plan click here).

Watch related video
| | |
| --- | --- |
| Lush Gardens & Swaying Palm Trees | |
Our vacation home is a tropical paradise featuring wonderful tropical plants and trees both in the front yard and in the more formal back garden just beyond the lanai. Of course there is no shortage of palm trees, tropical fruits and flowers all over Naples. Our gardens feature custom outdoor lighting created for us by a lighting artist whose clients include state governors and other dignitaries.

Our community neighborhood is a lush tropical paradise where you can enjoy a wonderful stroll or a bike ride in complete safety surrounded by amazing homes and gardens. Naples in particular and the Paradise Coast in general offer that Floridian charm and the feeling of truly being on a holiday.
We provide nearly everything
There is so much to do in Naples and so many places to see. Without information you will miss much of what the Paradise coast has to offer. Surely everyone can tell you about 5th Avenue South or about the Naples Pier but what about those hidden spots only the locals know about? Our local personal property manager will help guide you to finding hidden gems, adventures, affordable restaurants and good places to shop. This website is full of area information and it is yours to use even if you never stay at our Villa. Don't bring your beach towels because we provide plenty of them and even the beach bags to carry them in. In fact we provide beach lounges and umbrellas his/hers tennis rackets his/hers golf clubs, beach toys, and so much more. Check with us before you pack for your holiday in Paradise. Click here for a full list of amenities